Last Sunday, we had the opportunity to attend the EdTechTeam Google Summit at Roseville High School, where we learned about Google's Applied Digital Skills Curriculum.
This newest project from the EdTechTeam has three big selling points: The lessons are correlated to ISTE Standards and Integrated with Google Classroom, with an emphasis on digital citizenship. The lessons address timely, relevant topics (e.g., from conducting research and writing a report – to creating a budget spreadsheet) and are easily adaptable to a range of grade levels (including adults) and subject areas.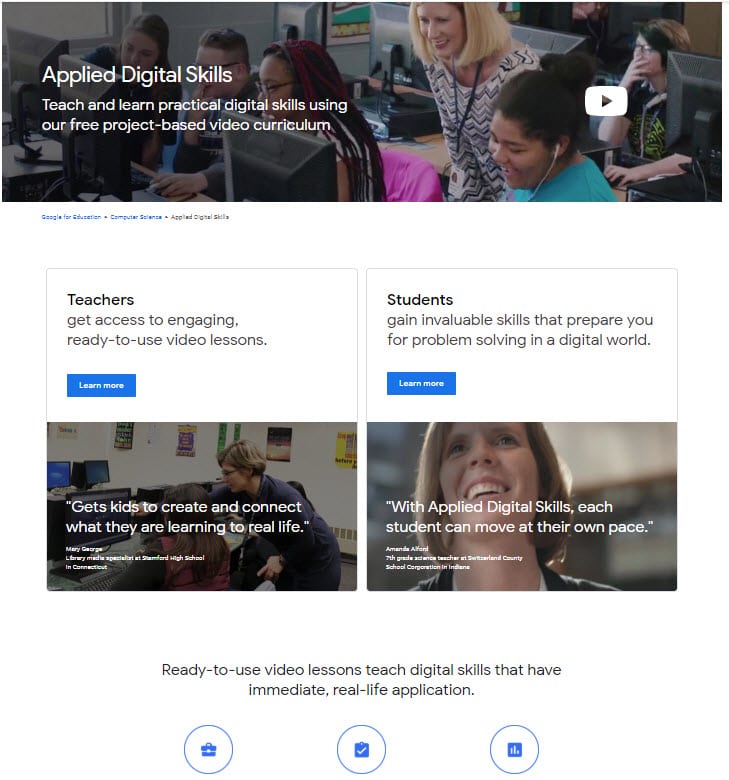 So far, we have explored the If-Then Adventure Story unit, which fits beautifully into both English/Language Arts as well as History/Social Science. This weekend, during our What You Should Know Before Clicking "I Accept" Saturday Seminar session for EGUSD staff, we'll be sharing the Technology, Ethics, and Security lesson.
The lesson objectives begin with an emphasis on protecting student privacy:
Explore all sides of the topic they choose related to technology, ethics, and security

Explain technology's risks and dangers, and consider solutions to keep users safe

Plan and employ effective research strategies to locate information and other resources for their intellectual or creative pursuits

Publish or present content that customizes the message and medium for their intended audiences
We are impressed with the Applied Digital Skills Curriculum for both the digital citizenship connections and the real-life connections. If you pilot any of the lessons, we would welcome and value any feedback on the program. Please jump in with comments.
---
Did you Know?
Did you know that Monday, January 28, 2019 is Data Privacy Day? "Millions of people are unaware of and uninformed about how their personal information is being used, collected or shared in our digital society. Data Privacy Day aims to inspire dialogue and empower individuals and companies to take action." – Stay Safe Online, National Cyber Security Alliance (NCSA)
We are continuing our efforts to provide resources on this important topic and focus area (Protecting Online Privacy) of our digital citizenship program.  Stay Safe Online has some great resources, including an eye-catching, informative infographic. To see the expanded infographic, click on the image below.
"Personal Information is like money. Value it. Protect it."  – StaySafeOnline.org
It's exciting to see a growing bank of resources that addresses a timely topic. We appreciate the work that Common Sense and Google have put into developing engaging lessons. Please let us know if you have additional resources to share.